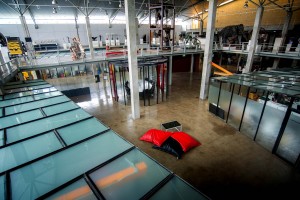 CMO Plc, a leading event organiser, expects to achieve 2 billion baht in revenue over the next three years following the building of a 500-million-baht office complex on Nuanchan Road in Bang Kapi.
Called Bangkok Creative Playground, the 12-rai office complex is the biggest investment in CMO's 28-year history, and houses the company and other two subsidiaries, The Eyes and PM Center.
"The new office complex can make us collaborate among the three companies and boost inspiration for our staff," said Sermkhun Kunawong, chief executive of CMO.
The company will this year expand into the TV business as it sees plenty of opportunities with the launch of digital TV. It has its own production studio and plans to supply programmes for several new digital TV channels.
Regarding the event-organising business, it will organise more entertainmentrelated events locally such as parties, concerts and special events and further diversify its business overseas to enter Asean countries such as Cambodia, Laos, Myanmar, Vietnam and Indonesia.
It projects overseas revenue will contribute 20% of the total by the year-end, up from a tiny proportion last year.
The company aims to generate 1.2 billion baht in revenue this year, up 5% from last year, while it has 750 million baht from its backlog. It expects revenue will rise to 2 billion baht by 2016.
Mr Sermkhun said the event-organising business is recovering after protest venues in downtown Bangkok were abandoned and the revocation of the state of emergency decree.
Brands and consumer product companies are more confident about the situation and began launching new products since last month.
"The venues in downtown area are now accessible and many brands are pushing marketing campaigns to stimulate demand and boost sales by the year-end," he said.
However, the whole-year event-organising business is expected to decline by 10% to 14 billion baht due to then impasse.
Mr Serkkhun said that the main office building occupied by CMO at the new office complex would allow clients to experience its event-organising services and view artworks at the Bangkok Sculpture Center.
The second building is occupied by production house and editing studio of The Eyes Co, while the last building is for PM Center Co.
Meanwhile, Kriengkrai Kanjanapokin, co-CEO of Index Creative Village Plc, said the outlook for the event business in the second half of the year is likely to improve as many brands in many sectors such as motoring, fast-moving consumer goods and beverages are allocating larger marketing budgets to maintain their revenue growth targets.
"The domestic political situation is an important factor to set the bright or poor outlook for the event-organising business this year," he said.